There are many reasons for choosing Homecare Solutions to provide home care to you, to your family and loved ones.
Reasons for Choosing Homecare Solutions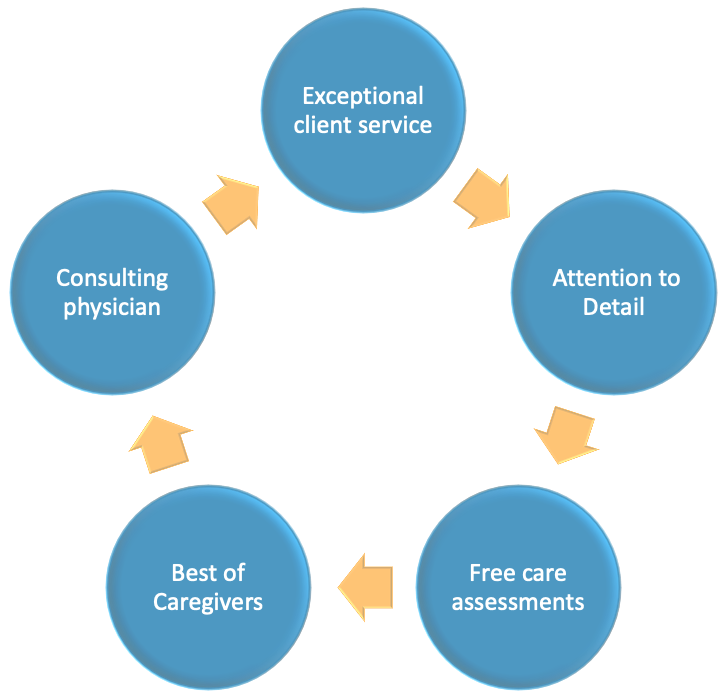 Exceptional Client Service
What can you expect when you call Homecare Solutions? Firstly, you will be greeted with exceptional client service. Our Nurses and Client Service Coordinators are knowledgeable, courteous and professional. They have extensive experience in supporting families to develop care programs. This includes getting the most from public care services (CLSCs, hospitals, CHSLDs) before engaging private services. And they have worked with a broad range of clients, from those requiring limited initial support to those with the most demanding of home care needs.
We understand that many of our families are newcomers to the care of seniors and we contribute our support and direction in providing care to their loved one.
We understand that home care needs can change frequently. We do not require a contract for a fixed care schedule, but rather request our clients to complete a Service Agreement which includes a consent from the client and/or family for providing care. We strive to keep the paperwork simple.
We answer your calls 24/7. A trained client service Coordinator takes calls evenings and weekends and we handle emergencies in the Greater Montreal area 24 hours a day. We understand that the care of seniors requires the very best of communication and this always starts with having a real and trained person answering the phone.
The Safest of Care
Here are the special steps and procedures that we have introduced to ensure we provide our clients with safe, reliable and worry-free care in this time of the Covid-19 pandemic.
Daily screening of our caregivers, to ensure all Public Health Guidelines are being followed.
Following the safety protocols that help to prevent the spread of infection – handwashing, using hand sanitizers, wearing masks, respecting social distancing when possible.
An open dialogue with our clients to ensure that they are following prudent lifestyle practices with their families and in their homes.
We appreciate that our clients and their families often have to make difficult choices regarding organizing care for their loved ones, particularly when they are facing more demanding care needs.  We welcome the opportunity to support families in making the best possible choices, practically for the coming year, until we have a clearer understanding of how we can live with this pandemic and life returns to normal.
Attention to Detail
Ensuring to pay attention to the "little things" is an important contributor to quality of home care. Paying attention occurs by listening, noticing details, and taking actions. These are important factors in providing quality person centered care. When all staff and families work together to detect signs of potential change in a client's care needs, proper decision-making can be shared to benefits clients' outcome. Our coordination and management team work hard at creating open and transparent lines of communication with our clients, families and caregivers. This in turn facilitates effective peer and supervisory relationships allowing everybody to work together towards one common goal by focusing on client's needs, interests and wishes.
There are many benefits to 'one on one' home care for you or your loved one. Call us so we can begin to discuss how together we can create and effective plan of care. A person-centered approach to care means that we do not have any packaged solutions, we work together with you and your family to ensure care is tailored to your needs in a safe and effective manner.
Free Home Care Assessment
At Homecare Solutions, we undertake, an Assessment of care needs in the clients' home or residence, so that we have a first-hand understanding of our clients home care needs and living environment.
Providing the best of home care cannot be based solely on a phone call. We want our clients to know who we are, and we want to have a first-hand understanding of our clients and their families. For this reason, an experienced member of our nursing staff visits our clients' home for a homecare assessment visit. During this visit our nurse will assess all the clients care needs, perform an environmental risk and falls risk assessment, ensuring the clients upmost safety.
This Assessment also provides the opportunity for us to meet the clients' family and discuss important issues such as scheduling and the budgets available for care. We view this Assessment as an important tool for building a Care Plan which serves to clearly define the responsibilities of the caregiver, the client and the family.
Best of Caregivers
At Homecare Solutions, our people have been attracting, evaluating, recruiting and training caregivers in the Greater Montreal area for over 20 years. The most effective tool for attracting good caregivers is building a 'best employer' reputation and by communicating this reputation through informal networks in the caregiving community. Our management team have the experience to establish relatively quickly the real capabilities of new applicants, whether their technical caregiving skills, or their people skills and the ability to develop compassionate, and supportive relationships with our clients.
Finding the right caregiver for each of our clients is a matter of bringing experience, judgement and understanding about each client's needs. Through our initial phone call and assessment of home care needs we begin to get an understanding of which caregiver should be matched with each individual client. Welcoming someone into your home is important and we work hard to help our families feel at ease with this often-new process.
All of our caregivers have undergone a Homecare Solutions orientation program as well as thorough reference checks. And we undertake criminal record checks on all our caregiving and nursing staff.
Consulting Physician
At Homecare Solutions we strive to achieve best practice in communication. We are fortunate to have the support of an exceptional physician who supports our home care team, ensuring that we understand from a medical perspective, the challenges facing our clients.
We welcome taking the time to explain how our services work. Listening carefully to your needs, so we understand all the details which are important. Take a minute and read through the testimonial letters from our clients.